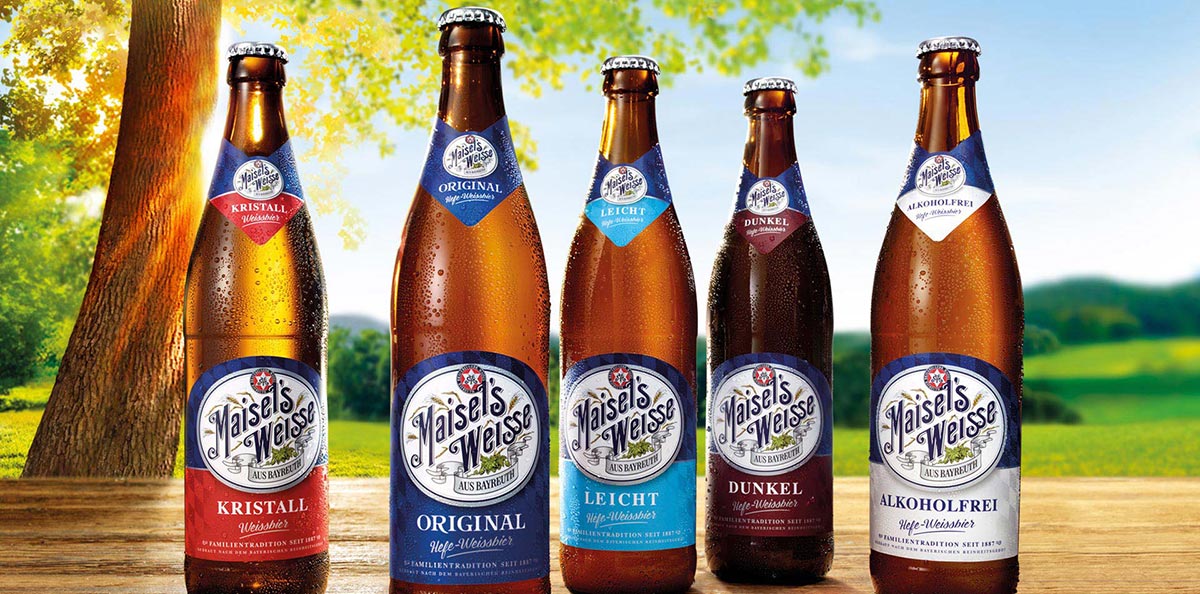 MAISEL'S WEISSE
A true Bavarian
specialty wheat beer
Maisel's Weisse is a specialty wheat beer brewed by Brauerei Gebr. Maisel, a family-owned brewery from Upper Franconia – a region in Germany with the highest concentration of breweries in the world. For many generations, the Maisel Family has shared this tradition and passion for the product with the next generation, while also perfecting it along the way.
In fact, Maisel was one of the first breweries to introduce a wheat beer. Maisel's Weisse is a further development of "Champagner-Weizen", originally marketed as the "Champagne of wheat beer". The specialty brewers in Bayreuth also helped weissbier become a successful "on tap" beer – not just a trend – in the restaurant scene thanks to Maisel's Weisse's availability in kegs. Today, more than ever, the number of Maisel's Weisse fans continues to grow – even and especially outside of Bavaria.
"Mach's auf Deine Weisse"
–
"Do it your way"
The unique bright reddish-amber hue of Maisel's Weisse with its fruity-fresh aroma and spicy-crisp taste set it apart in a very pleasant way from other wheat beers. Strict adherence to the original brewing processes with select wheat and barley malts and using our own pure culture yeast are what make Maisel's Weisse such a pleasure to drink.
Experience a true piece of Bavarian beer tradition brewed for those who love the finer things in life and want to celebrate it with a young, fresh weissbier.