A TRADITION OF BREWING
The history of Brauerei Gebr. Maisel
Brauerei Gebr. Maisel has always been a true family brewery. Founded in 1887 by brothers Hans and Eberhard Maisel, who themselves grew up in a family of brewers, their own history traces back another 100 years. Today, Jeff Maisel runs the family-owned company – now in its fourth generation – with great passion and enthusiasm.
The company's history is marked by foresight, courage and values unique to a family business. The company has an impressive history of development from a regional brewery into one of Germany's leading brewers of specialty beers.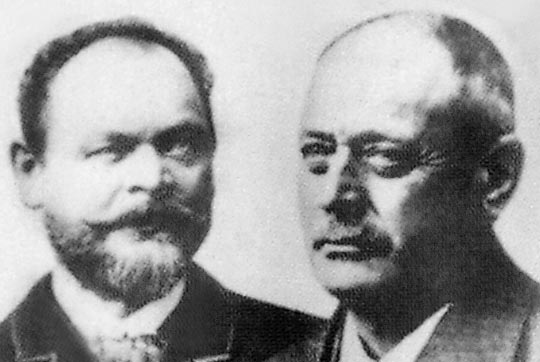 Hans & Eberhardt Maisel established the brewery and quickly achieved their first successes – so much so that they soon had to expand the facilities.
The brothers Hans and Eberhardt Maisel acquired a parcel of land on Kulmbacher Straße for 32,000 marks and the Bayreuth city council approved the "building of a new brewery with cellar facilities" on January 12, 1887. It took less than a year to finish the construction project: The lager beer cellars, office building, brewhouse and a machine & boiler building were completed in the autumn of 1887.
Hans Maisel was not just a talented brewer, he was also a cunning salesman – and the brewery grew rapidly. Horse-drawn carts delivered beer throughout the entire surrounding area and, after only a few years, it was time to expand the brewery again with small additions.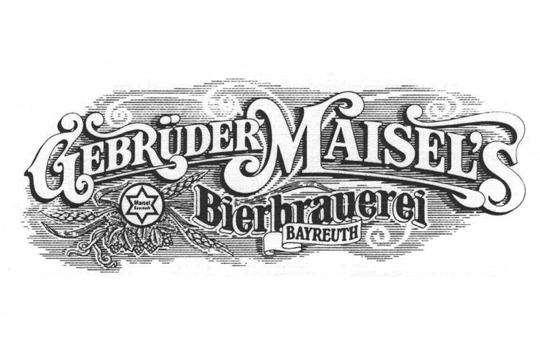 Maisel brewers have expressed their loyalty to the brewing tradition by including the brewer's star in their logo since the 1920s.
Since then, pubs and inns that serve Maisel beers display the "brewer's star" in their sign. It lets thirsty guests know that they will find wholesome beer at this establishment with excellent specialty beers on tap. The connection between beer and the six-pointed hexagram goes back to the alchemists. The upside down triangle stood not only for water – an essential component of beer, but also for earth – and thus the key ingredient barley malt. The triangle pointing up represents the fire of the brew kettle and air for the carbon dioxide in beer. Brauerei Gebr. Maisel has proudly incorporated the brewer's star in its company logo since the 1920s as a sign of the brewery's fidelity to good tradition.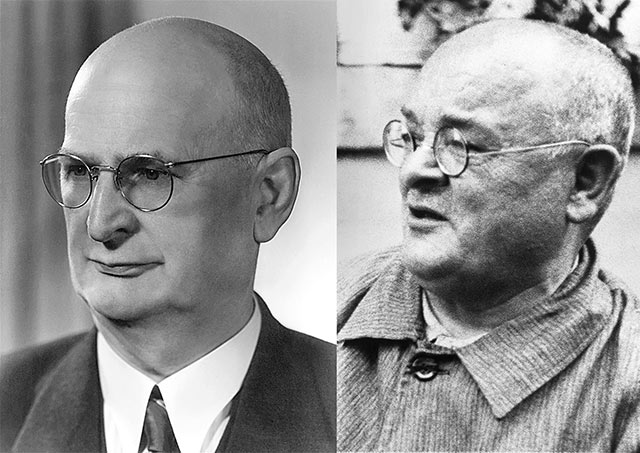 The second Maisel generation Fritz & Andreas Maisel led the brewery with foresight through the war and made it into an export beer brewery.
Fritz and Andreas – sons of the founding brothers – took over management of the company during the Great Depression of the 1920s. From 1936 on, Fritz Maisel (right) headed the brewery alone and brought it through the war years without any major damage. He was a gifted master brewer whose pioneering spirit was bolstered by the technical advances of the time. Thanks to him, Maisel made a name for itself even beyond the Bayreuth region as an export beer brewery. Motor vehicles took over the work of horse and cart and brought the beer from Bayreuth to outlying areas.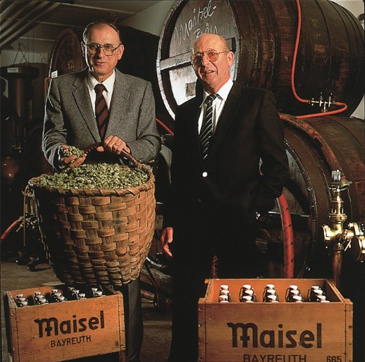 With a passion for experimentation, the third Maisel generation Oscar & Hans Maisel turned the export beer brewery into a brand of specialty beers known throughout Germany and beyond.
Hans Maisel – the first of Fritz Maisel's two sons – took over responsibility for the brewery business in 1951. Meanwhile, his brother Oscar was gaining experience in breweries around the world before bringing this technical brewing expertise back to the family brewery in 1955. With entrepreneurial courage and vision the two brothers made plans to expand the brewery; the original site had grown too small. By the end of the 1970s, a completely new, state-of-the-art brewery was built next to the old one. In 1981 this historic, listed building became home to "Maisel's Brauerei- und Büttnereimuseum" – a brewery and cooperage museum that earned a spot in the Guinness Book of World Records as the "world's most comprehensive beer museum" shortly after it opened.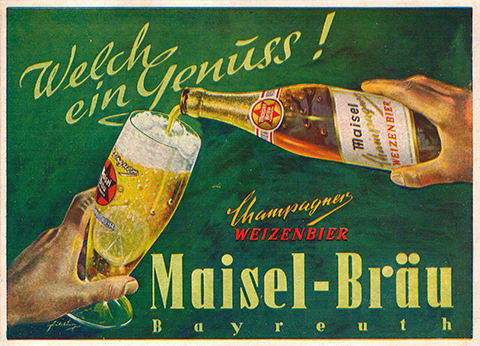 An important milestone in the history of the brewery: The birth of the "Champagne of wheat beer", which brought the brewery international acclaim.
Oscar Maisel had become acquainted with crystal clear wheat beer during his studies in Weihenstephan and loved this type of brew. Brothers Oscar and Hans decided to produce their own yeast-free wheat beer, which would prove to be a challenge since the company had only brewed bottom-fermented beers thus far. The existing equipment was not designed for the higher pressure levels that arise when brewing this style of beer.
It was initially called "Champagner-Weizen", later "Maisel's Weizen kristallklar" and quickly became very popular. Brauerei Gebr. Maisel played a major role in the spread of this Bavarian specialty beer – the "Champagne of wheat beer" – throughout Germany.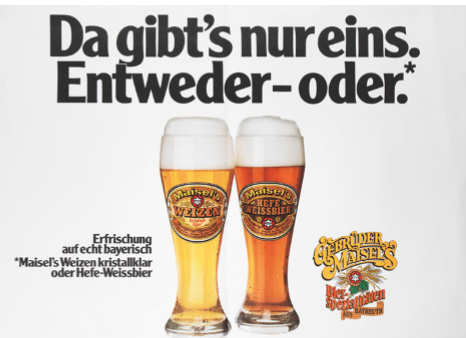 In addition to the crystal clear version, an unfiltered hefeweizen also started to gain popularity – and is now the brewery's main product.
More and more people began to enjoy wheat beers in Germany, which ultimately led to an unfiltered hefeweizen being offered alongside the crystal clear, yeast-free version. This not only fueled the nationwide weissbier trend, it would become Brauerei Gebr. Maisel's best-selling beer: "Maisel's Weisse ORIGINAL" is now Brauerei Gebr. Maisel's main product.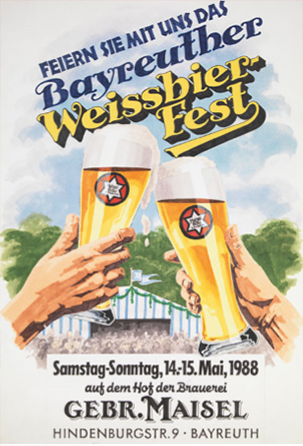 A festival with a full program at the company site was created to celebrate the brewery's 100th anniversary: Maisel's Weissbierfest, which is now popular far beyond the region's borders.
Brauerei Gebr. Maisel celebrated its 100th anniversary in 1987 with a large brewery festival open to the public to show the company's appreciation for their support. It was a great success: Thousands came to enjoy Maisel's Weisse right at the brewery where it is made.
Nobody expected such a huge response and shortly thereafter many people began to express their desire to celebrate festivals at the brewery more regularly. Brauerei Gebr. Maisel decided to make it an annual event and the brewery festival became "Maisel's Weissbierfest", which has been held every year since 1988. It attracts world-famous music groups and offers a full program with a great atmosphere – guaranteed.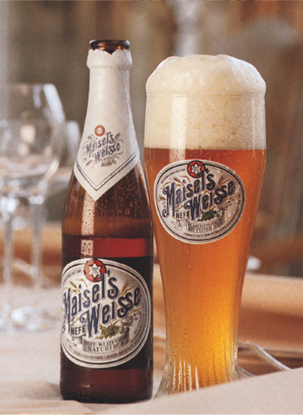 "Maisel's Hefe-Weissbier" becomes "Maisel's Weisse" and the brewery continues on its path of success.
In the late 80s the trend shifted from the "variety" of beer to the "brand" as consumers focused more on premium-quality wheat beers. In 1988 "Maisel's Weizen kristallklar" was renamed "Maisel's Weisse KRISTALL" and "Maisel's Hefe-Weissbier" became "Maisel's Weisse". Maisel's Weisse was already one of the three leading wheat beer brands in Germany; with proven high product quality and advanced equipment, the premium weissbier from Bayreuth continued its success story.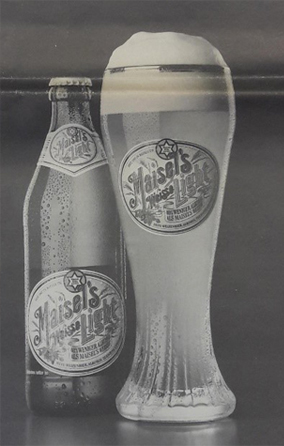 A low-alcohol weissbier is added to the portfolio – today's Maisel's Weisse LEICHT.
In 1991 "Maisel's Weisse Light" is launched as the newest addition to the portfolio that includes Maisel's Weisse ORIGINAL and Maisel's Weisse KRISTALL. Today the beer is marketed as Maisel's Weisse LEICHT. Light beers were all the rage in the early 90s and health-conscious and more fitness-oriented wheat beer drinkers were looking for lighter and low-alcohol versions of their favorite beers. Maisel's Weisse LEICHT still satisfies the demands of today's weissbier lovers, offering all the taste of Maisel's Weisse ORIGINAL with 38% less alcohol.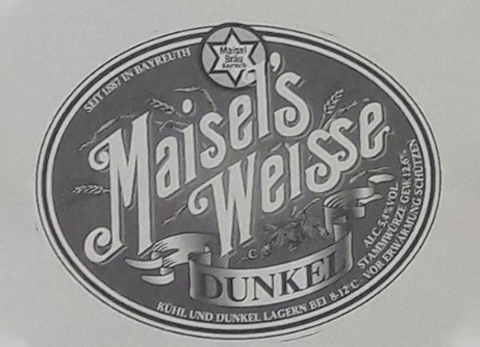 The fourth type of Maisel's Weisse is a dark wheat beer with many fans who love its spicy taste and complex aroma.
In 1995 a fourth wheat beer was added to the Maisel's Weisse portfolio: Maisel's Weisse DUNKEL. This black-red mahogany-colored weissbier brewed with special dark malts perfectly complements the other Maisel's wheat beers and was launched during a renaissance in dark, bottom-fermented beers.
Maisel's Weisse DUNKEL has a typical, slightly fruity weissbier note that is followed by a bittersweet, spicy flavor of various malt aromas that unfold at first sip. The pleasant taste sensation continues with the arrival of fruit and clove notes that create the full-bodied and very drinkable wheat beer experience one expects and can only get from Maisel's Weisse.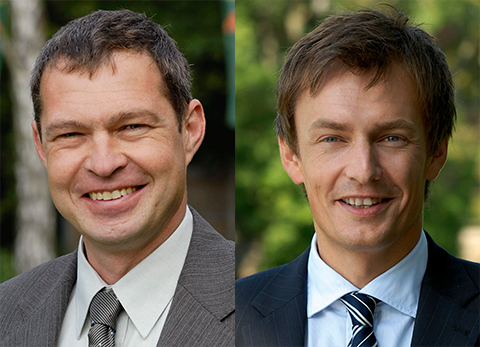 The fourth Maisel generation Andreas & Jeff Maisel brought the brewery into the 21st century and solidified its role as a trendsetter in the German beer market.
Business administrator Andreas Maisel joined the brewery in 1996 and was responsible for commercial management. His younger cousin Jeff Maisel followed three years later after earning a degree in brewing and beverage technology from TU Weihenstephan. Sadly, Andreas Maisel died at a much too early age in 2007 and Jeff Maisel took over management of the brewery – also on behalf of Andreas Maisel's two daughters. He has been the managing director ever since, with responsibility for administration and marketing. Hermann-Josef Boerger was appointed director of sales in 2004 and Marc Goebel director of brewing operations in 2017. Jeff Maisel was not only the initiator of the sophisticated Maisel & Friends specialty beers, he was and is the mastermind behind Brauerei Gebr. Maisel's creative concepts.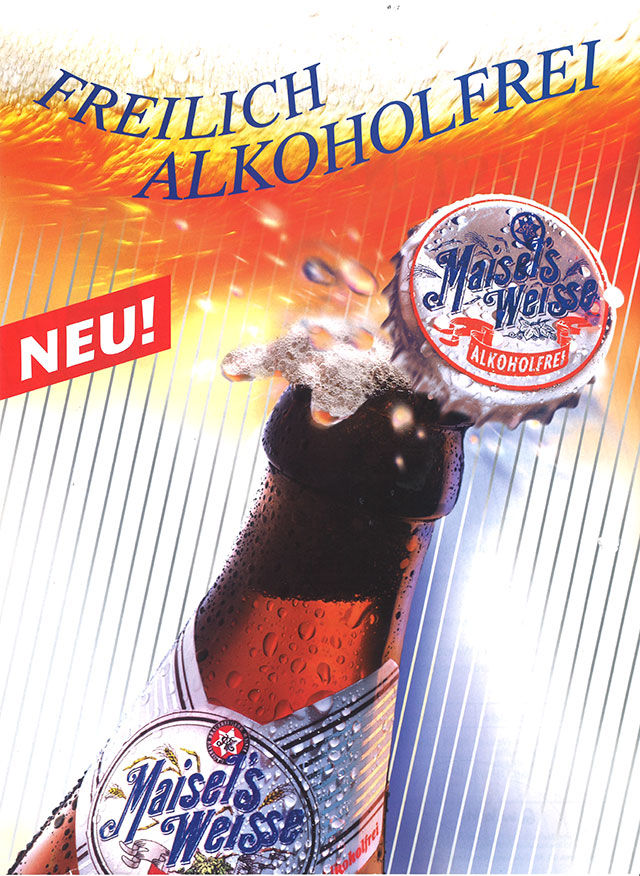 Athletic and health-conscious beer drinkers celebrated the launch of Maisel's Weisse ALKOHOLFREI in 2000.
Maisel's Weisse welcomed a non-alcoholic wheat beer to the family in 2000. Today's consumers don't just drink NA beers because that's their only option as the designated driver, for instance. They are also looking for tasty alternatives to soft drinks or bland bottled water. Maisel's Weisse ALKOHOLFREI is also the perfect beverage for active and health-conscious individuals who want to enjoy an NA version of Maisel's Weisse that is rich in vitamins, isotonic and has 33% fewer calories than the ORIGINAL. Using a proprietary brewing process, our brewmasters carefully remove the alcohol without sacrificing any of the characteristic traits of Maisel's Weisse.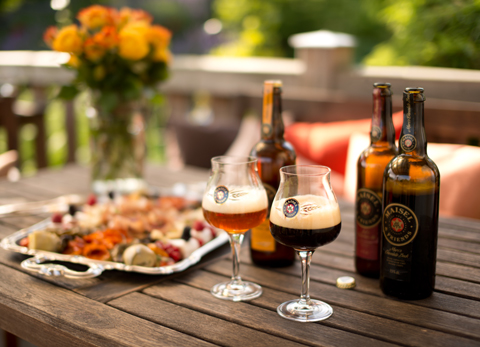 Jeff Maisel is known for his inventiveness and is one of the pioneers of the craft beer scene in Germany with the establishment of "Maisel & Friends".
In 2012 Jeff Maisel created Maisel & Friends together with close friends, making him a pioneer in the luxury and craft beer segment in Germany. Maisel & Friends stands for creative craft brewing, exceptional beers and a deep passion for all things beer. With their creations, the brewers are elevating beer once again in society and inspiring people to expand their horizons with regard to the taste prospects of beer. Even beer brewed according to the Bavarian Purity Law ("Reinheitsgebot") can be incredibly diverse and complex – with endless possibilities for the aroma, flavor and taste using only four ingredients. To do it right you need the finest ingredients, a deep passion, exceptional skill, many years of brewing experience, the desire to try new things and, most importantly, good friends who share this passion and love of beer and contribute their creativity to the project. Meet Maisel & Friends, a label that includes sophisticated specialty beers such as Pale Ale, Hoppy Hell or IPA. Beer enthusiasts can watch their favorite craft beers being brewed through the glass wall that separates the Maisel & Friends brewing workshop from the Liebesbier restaurant.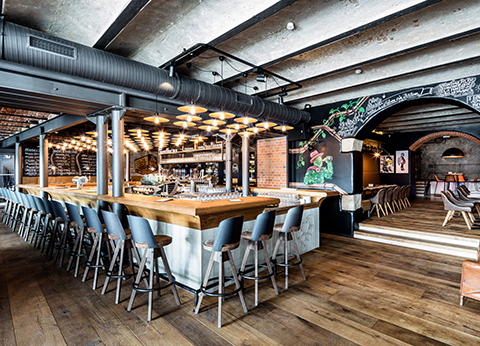 The opening of Maisel's Bier-Erlebnis-Welt and the Liebesbier restaurant put Bayreuth on the "beer hotspot" map in Germany.
Visitors to Brauerei Gebr. Maisel's historic main building embark on a journey through four generations of brewing tradition. The historic brewery museum, innovative brewing workshop and stylish restaurant concept offer a truly unique experience. Maisel's Bier-Erlebnis-Welt combines the tradition of Franconian beer culture and state-of-the-art technology at a more than 4,500 sqm site.
A dream came true for Jeff Maisel with the opening of Liebesbier. Together with his cousin Andreas Maisel, who had died seven years earlier, he had always dreamed of having a restaurant right in the brewery ever since his youth. Since the grand opening in March 2016, patrons who love beer can enjoy 21 varieties on tap and try a wide selection of brews from the roughly 100 different bottled beers as they eat delicious food and watch the Maisel & Friends brewmasters at work.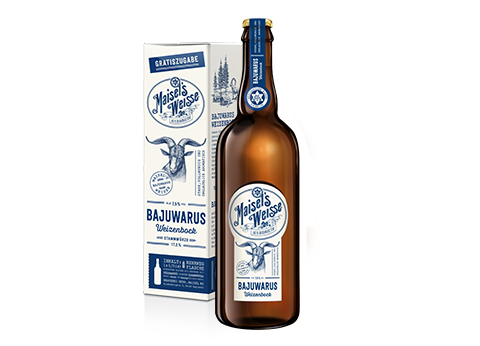 BAJUWARUS Weizenbock was created as a gift for loyal Maisel's Weisse fans and has been a sought-after collector's item ever since.
Wheat beer is the passion of Maisel brewers and this style of beer offers an incredibly wide spectrum of tastes and flavors that are yearning to be (re)discovered. In 2016 Brauerei Gebr. Maisel brewed an extremely limited edition wheat bock with 7.5% ABV as a gift to true fans of Maisel's Weisse. Now at participating beverage markets in the weeks before Christmas, every case of Maisel's Weisse comes with a free 0.75 liter bottle of BAJUWARUS Weizenbock. Fans eagerly await the arrival of this weizenbock as the extremely limited edition BAJUWARUS is not available for sale.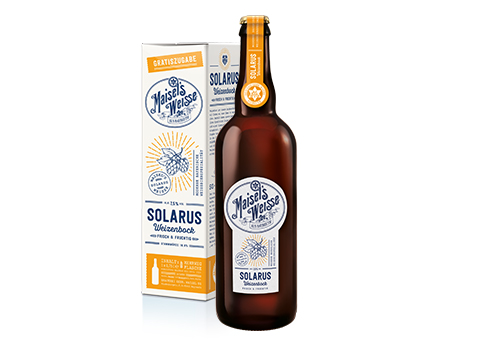 BAJUWARUS Weizenbock caused such a stir among beer lovers that Maisel decided to brew SOLARUS Weizenbock as a gift for loyal fans during the beer garden season.
In 2019 Maisel introduced a new complimentary beer for true Maisel's Weisse fans: At the beginning of the beer garden season, every case of Maisel's Weisse comes with a free 0.75 liter bottle of SOLARUS Weizenbock. This extremely limited edition 7.5% ABV specialty beer is a very drinkable classic wheat bock with a surprisingly fruity-fresh taste thanks to the addition of aromatic hop varieties during the cold maturation phase. The name SOLARUS describes the appearance and aroma of this heavy-on-the-hops wheat bock.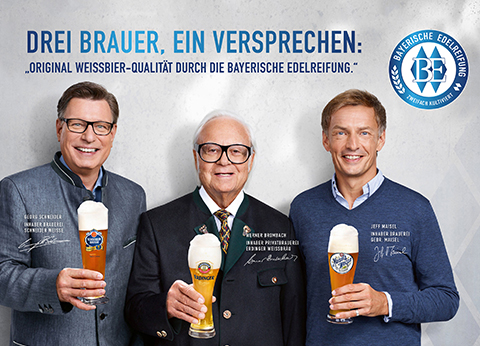 "Bayerische Edelreifung" is a quality seal of the joint initiative of the wheat beer breweries Schneider Weisse, Erdinger Weissbräu and Brauerei Gebr. Maisel.
In collaboration with the Bavarian family-owned breweries Erdinger Weissbräu and Schneider Weisse we launched a quality offensive for wheat beer. Unlike standard brewing methods, the three breweries let their wheat beers mature a second time – and we have been practicing "Bayerische Edelreifung" for generations: Following primary fermentation and maturation, we add fresh yeast and brewer's wort to our weissbier before it is bottled. We do not pasteurize our beers either. And instead of shipping the beer out right away, we store them in the bottle or keg for up to three weeks. This gives the wheat beers the time they need for their second maturation phase so that they can develop their distinctive taste and effervescent carbonation. Look for the blue "Bayerische Edelreifung" quality seal with a double diamond and ear of wheat in the ring for superior quality Bavarian wheat beers that undergo a second maturation phase.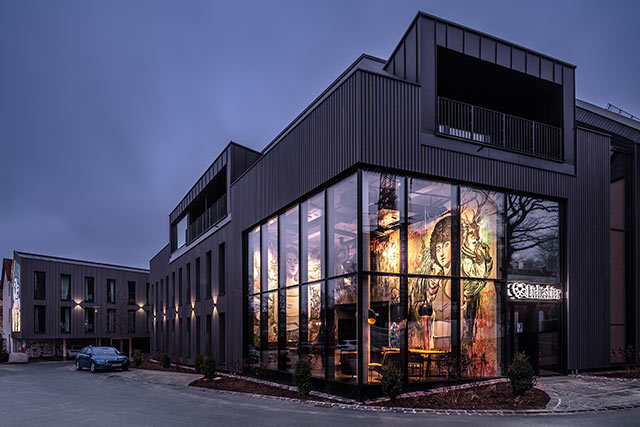 The Liebesbier Urban Art Hotel, a synthesis of the arts that is unique in the world, is a further attraction in the brewery grounds.
Conceived by several architects, the Liebesbier Urban Art Hotel has 67 rooms, which – as well as the exterior walls – were individually designed by nearly 70 urban artists from more than 30 countries, using their own artistic signature.
Planning and construction was primarily carried out with companies from the local region. A smart hotel has been created out of two buildings from the 17th and 18th centuries, a modern connecting construction, and an extension. Guests experience the highest level of comfort thanks to modern technology, making their stay here unique.