Maisel´s Weisse Alkoholfrei
Isotonic NA weissbier rich in vitamins – and flavor!
Maisel's Weisse ALKOHOLFREI is the perfect beverage for active and health-conscious individuals who want to enjoy an NA version of Maisel's Weisse. Like all other Maisel's Weisse varieties, it is made using only the purest natural ingredients, rich in vitamins, isotonic and has 33% fewer calories.* Using a proprietary brewing process, our brewmasters carefully remove the alcohol without sacrificing any of the characteristic traits of Maisel's Weisse. Just like the ORIGINAL, Maisel's Weisse ALKOHOLFREI boasts a unique bright reddish-amber color and has a fruity, yet complex taste.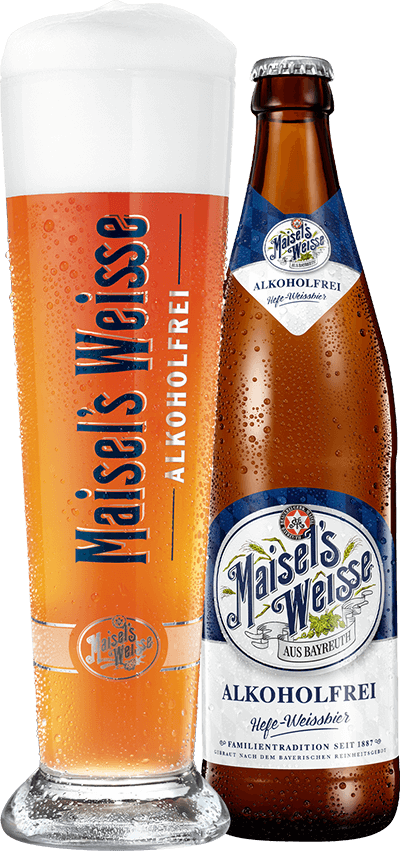 COLOR:
Bright reddish-
amber hue
TASTE:
First sip: Mild, spicy aroma
of malt, fruit and clove
with a touch of nutmeg.
Finish: Slightly fruity,
yet complex weissbier aroma.
BEST SERVED WITH:
Boiled beef,
tartare, goat cheese,
sour milk cheese,
fruit salad
INGREDIENTS:
Fichtel Mountain water,
wheat and barley malt,
yeast, hops
ABV:
< 0,5 % vol
OG:
1.030 (7.65 °P)
IBU:
10
CO2 CONTENT:
6,4 g/l
NUTRITIONAL INFORMATION
PER 100ml:
108 kJ/25kcal
Fat 0 g,
(saturated 0 g)
Carbohydrates 5,5 g,
(sugars 1,8g)
Protein 0,7 g
Salt 0g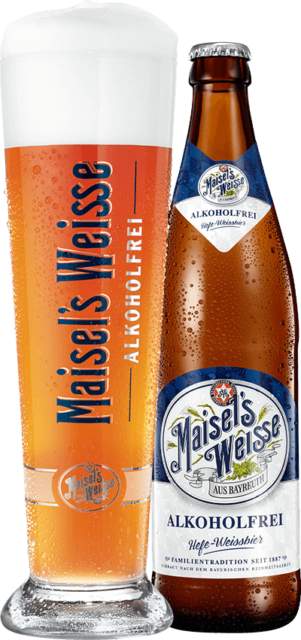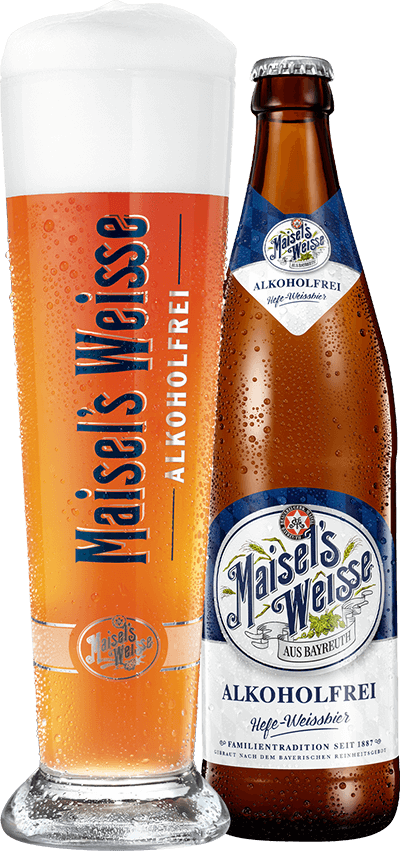 Maisel´s Weisse Alkoholfrei
Top rankings in major beer competitions
Maisel's Weisse ALKOHOLFREI took home the world title two years in a row at the "World Beer Awards" (London) – one of the most famous international beer competitions – where it was named "World's Best Wheat Beer Alcohol Free" in 2018 and 2019. In addition, Maisel's Weisse ALKOHOLFREI received the "International Craft Beer Award 2019" in platinum and the "European Beer Star 2019" in gold.